Dear John and Scott:
Thanks for the time and effort you put into assisting me with the purchase of my home. Your knowledge of the Miami real estate market cleared the way for an easy transaction. I really felt like you had a personal interest in seeing me achieve my dream of home ownership.
Sincerely,
Sharon Weiss, American Airlines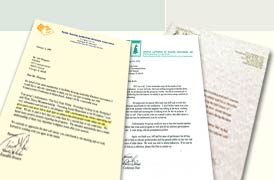 ---
Dear Mr. Jacobson (previous owner of Wimbish-Riteway Realtors/Sotherby's International):
Mr. Lucas is the most expert and professional realtor.
My wife and I recently purchased a home in Pinecrest, Florida, and we are enjoying our home today because of the dedicated and intelligent efforts of Mr. Lucas. Mr. Lucas superbly choreographed the negotiations, and "made it happen!" He was artistic in his dealings with a builder/seller who had a strong and unique personality. Despite many potential setbacks, Mr. Lucas kept the efforts focused.

I would like to thank you for your company's extremely professional approach to a home sale. in addition to Mr. Lucas, there was an excellent depth in service provided.

Mr. Lucas is a gentleman and a paradigm of a realtor.
Sincerely,
Jack A. Ziffer, Ph.D., M.D., F.A.C.C. Director, Nuclear Medicine and Cardiac Imaging / Baptist Health Systems of So. FL
---
To Whom It May Concern:
John Lucas was involved in a recent transaction of my property, 9055 Hammock Lake Drive. I thoroughly appreciated his efforts and ability in each aspect of my sale.

Throughout the interaction John acted professionally. he continuously kept me updated and supplied me with copies of the ads and brochures that led to the sale of the property. He went out of his way many times to help.

Mr. Lucas is trustworthy and thorough individual. As such, I highly recommend him for the sale of any million dollar property.
Sincerely,
Lionel Martelly , President
---
 To whom It may Concern:
What an Agent! Got our price plus and additional $150,000, through his great marketing skills.
Dr Les Rosen
_________________________________________________________________
Firm Evaluation
John has to be the most effective real estate professional we have even known. This in the fourth transaction we have had using him and his team. It is always a pleasure working with the Lucas Team.
Dr George & Joy Bailey
__________________________________________________________________
Firm Evaluation
As a neighbor and realtor John is the best he has always gotten the job accomplished and keeps us informed of each step of our listing or sell. He always returns calls within a few minutes.
Garth & Lee Parker President Somay Products
_________________________________________________________________
Sold my mothers home in one day, then several years later sold our home. John & Scott are the best realtors I have ever known. I will only work with the Lucas Bloom Team in the future.
Mr & Mrs Little, Retired Teachers
____________________________________________________________________
To whom It may Concern:
We called John because of his great Marketing Material. We were able to purchase a beautiful home of our dreams. Without John & Scott we would never have gotten our new home.
Jose & Lillian Perea, President, Kelly Survey Co.