Page 1 of 2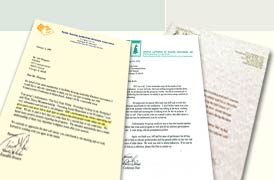 ---
Dear Scott:
Thanks for the time and effort you put into assisting me with the purchase of my home. Your knowledge of the Miami real estate market cleared the way for an easy transaction. I really felt like you had a personal interest in seeing me achieve my dream of home ownership.
Sincerely,
Sharon Weiss, American Airlines
Dear Mr. Jacobson (previous owner of Wimbish-Riteway Realtors know Coldwell Banker):
Mr. Lucas is the most expert and professional realtor.
My wife and I recently purchased a home in pinecrest, Florida, and we are enjoying our home today because of the dedicated and intelligent efforts of Mr. Lucas. Mr. Lucas superbly choreographed the negotiations, and "made it happen!" He was artistic in his dealings with a builder/seller who had a strong and unique personality. Despite many potential setbacks, Mr. Lucas kept the efforts focused.
I would like to thank you for your company's extremely professional approach to a home sale. in addition to Mr. lucas, there was an excellent depth in service provided.
Mr. lucas is a gentleman and a paradigm of a realtor.
Sincerely,
Jack A. Ziffer, Ph.D., M.D., F.A.C.C. Director, Nuclear Medicine and Cardiac Imaging / Baptist Health Systems of So. FL